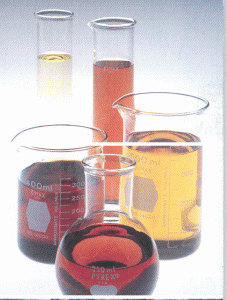 As with most things manufactured today, lubricants come in various qualities, quantities and prices. There are food grade and nonfood grade, hydrotreated and non-hydrotreated, synthetic and non-synthetic.  All have varying degrees of additives, different types of additives and different base stocks.
There are polyglycols, polyalphaolefins, diesters, polyol-esters, hydrocarbons and silicones, all with different antioxidents, anti-foam agents, viscosity enhancers and emulsification characteristics. These varying chemistries, both organic and inorganic, are almost endless.

Brand names with guaranteed results.With so much to consider, you need a partner that is familiar with your equipment, its requirements, and the appropriate lubricant choices for your system.  We are that partner.   We supply only high-quality, top-of-the-line products, however, in some instances we can show you how inexpensive, "throwaway" automatic transmission fluid not only meets but will exceed your needs!
While it is true we want your business, we would rather earn your respect and future business than simply to "make a sale".
Contact us to look at your lubrication requirements today!