Mainline equipment is an all inclusive statement, concerning everything required on the main compressed air line, from the compressed air piping and full flow regulator's to dryers and filters. Proper compressed air treatment is essential to the continual operation and life of the equipment that utilizes the compressed air.
Pneumotech not only has the technical staff to recommend the proper type of compressed air line treatment that would be most appropriate for your operation; but also has the ability to install, maintain and repair any and all of the affiliated equipment, including after-coolers, refrigerated dryers, desiccant dryers, line filters, and centrifugal separators.
Filtration
One of the most essential pieces of mainline equipment in the entirety of your system will be the filtration. With proper filtration you can remove contaminants down to .01 micron with a 99.999999% efficiency. Filtration can also remove any entrained liquids and with absorption type filters you can also remove any entrained vaporous hydrocarbons. Due to the ability to remove entrained liquids, it is essential that the pre-filters always have drains installed. Automatic condensate drains are the preferred, due to the varying amounts of liquids that need be discharged on a non-regulate-able, but regular basis. One of the other advantages of filtration, is through careful observation of your pre-filters, you will be able to detect upstream compressor problems as they begin to occur.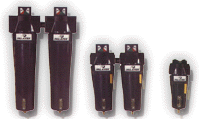 Dryers
Compressed air dryers come in many variations. From the refrigerated dryers, to a variety of deliquescing dryers, each of these have a varying degree of dewpoint suppression. Our staff is well educated in all dryer types and is here to serve your company. We are well trained and can ensure that your dryers are the best available for your system and are working the way they are designed.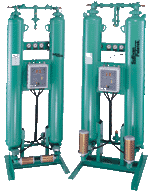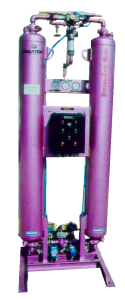 What are your mainline needs?  Contact us today!