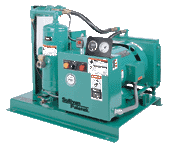 As a systems manufacturer and integrator, Pneumotech has the ability to supply almost any requested brand name including our own private label systems. Spanning the full gamut- from 1/10 hp to 1500 hp with flows to 3200 SCFM and pressures to 9000 PSIG – we offer everything from individual components to complete turnkey systems.
Instrument Air Systems
Vacuum Pumps
Compressors
Lubrication
Main Line Equipment
Blowers
Compressed Gas Generators
Components
Whether you need valves, cylinders, lubricants, parts or pumps; we have the ability to supply what you need without wasting your resources on things that you don't.