Contrary to popular belief "vacuum" is not negative pressure.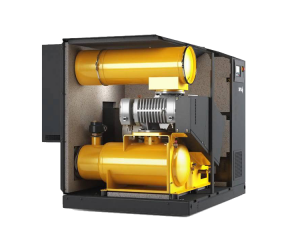 It is a pressure that is below the normal atmospheric pressure which you reside in. That being said, you'll find that the ability to achieve this "lower than atmospheric pressure" can sometimes be extremely difficult. Without the proper equipment for the depth of vacuum you're trying to achieve, and without the vacuum pump that will withstand the inhalants it's pulling in during its evacuation, you will find yourself spending a tremendous amount of money and time getting nowhere.
Liquid Ring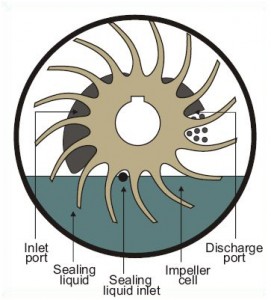 Liquid Ring vacuum pumps create the seal with the seal fluid being flung to the outside of the cylinder wall surrounding the rotor. This method of pumping air is fairly efficient, although it won't achieve an extremely deep vacuum due to the seal fluids vapor point.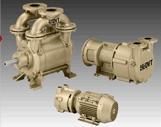 This type of pump can tolerate a far greater variation of inhalants than almost any other type of pump on the market; abrasive dust, water and many chemicals are easily passed through the liquid seal while doing no damage to the pump itself.  It is used commonly throughout industries for in-house vacuum systems.
Pneumotech has specified, designed, installed and repaired many of these pumps over the years. Please feel free to contact us to assist you in your low pressure vacuum applications.
Rotary Vane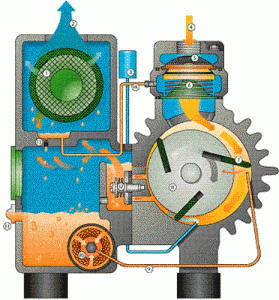 Rotary vane vacuum pumps pump or "evacuate"  air by spinning a rotor which has slots in it containing the vanes.  The rotor is offset of center to the cylinder wall. These vanes, due to centrifugal force are sealed against the cylinder wall; thus causing the differential pressure and pumping action.
These type of pumps have the ability to achieve a very deep vacuum, but their major drawback is that they will not tolerate any particulate inhalants and don't care much for most liquid inhalants.
Rotary Screw
Rotary screw vacuum pumps function basically in the same manner as a rotary screw air compressor. These particular types of units are fairly efficient, although not very tolerant of contamination.They are best suited to high-volume applications that do not require extreme depth of vacuum.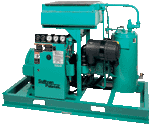 For the user who has only an occasional need for a vacuum pump and the occasional need for a rotary screw air compressor, Palatek has a unit which does both. With the flip of a switch your rotary screw air compressor now becomes a high-volume rotary screw vacuum pump.
Lobe Blower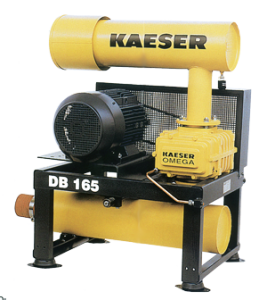 Rotary lobe blowers are used for both vacuum and pressure, but are most suited for high-volume and not very deep vacuum "below atmospheric".
Pneumotech has specified, designed, built and sold many blower packages and would be more than glad to assist you with your needs. We have found over the years that most blowers are considered to be disposable units and we have often discovered just the contrary.
Contact Sales
Pneumotech's personnel have many years of experience in vacuum technology. We are here to assist you in any way that we can. All of the varying different types of vacuum pumps have their advantages and disadvantages. If you will allow us an opportunity to earn your business by assisting you in your decisions, you can be assured that we will do our utmost to earn your respect of our abilities.