Rotary screw air compressors are the staple of industry today. They vary in ranges from five to several hundred horsepower, producing pressures as high as 350 PSIG. The oil flooded rotary screw has basically no metal to metal contact as found in a piston machine, therefore the life of this style of compressor is far greater and the overall efficiency considerably higher.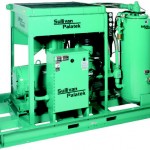 Another major benefit of the rotary screw air compressor?   Pulsation free air.
While reciprocating air compressors require a receiver to remove the pulsation effect from the compressed air stream prior to it being used, a receiver is not necessary for a rotary screw compressor.  Less equipment, lower maintenance, and an overall superior product.
Need more details?  Contact us today!